The seventh book in the Victorian Mystery series, published March 2001.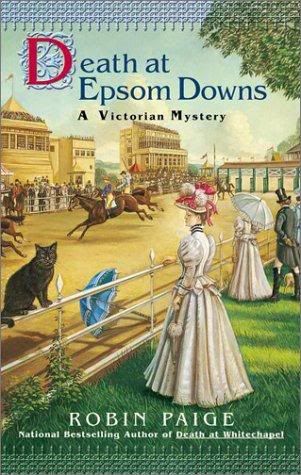 It's Derby day at Epsom Downs, and Lord Charles Sheridan is on hand to photograph the race with his new camera – while his wife Kate watches from the stands. It's a thrilling day for both Sheridans – until the race ends with a jockey's death. With her husband busy investigating, Kate retreats to the countryside to interview world renowned actress Lillie Langtry for a magazine article. Plunging into her subject's less-than-illustrious past, Kate puzzles over the long ago theft of the actress's jewels – and is not surprised when Charles's investigation heads in Langtry's direction. Now. Sorting through rumors of bitter rivalries and torrid love affairs, the lord and his lady embark on a race for justice that stands to be a photo finish…
As Charles has been asked by the Jockey Club to make a photograph of the finish of the Derby, both Charles and Kate, and their personal servants are at the Epsom Downs race track. Kate is not really interested in horse racing, and neither is Charles, though both his father and his older brother were keeping/training race horses.
It's been two years since the previous book, and Lawrence and Amelia are the proud parents of a little girl, whom is staying with Amelia's mother. She is not at all happy that Lawrence insists on gambling on the horses while they are there, the money could be better used to buy new shoes for Baby.
Kate gets introduced to the famous actress Lillie Langtry, who is most enthusiastic about one of her books, and wants it adapted for a play, with herself in the lead of course. Kate is not so sure about that, but does not get the chance to decline. Instead, she is invited to come and visit Lillie at her "little cottage" near Newmarket.
Both Kate and Charles are very concerned about young Patrick, who has run away from school a few months ago, and they have not heard from him since.
When the race ends in a disaster, with one jockey death, and a horse needing to be put down due to his injuries, Charles is asked to investigate. As horse racing is not his venue, he asks his good friend Lord Brandon Marsden to help him.
Brandon is engaged to a lovely young woman, who actually is working for a living. Of course, his mother hates that, as she wants him married to a rich heiress to fill up the family coffers.
There is a suspicion that the horse that caused the accident, was drugged. A new thing, brought over from America by two American horse trainers. They use drugs to make a horse win, or lose, a race, and make lots of money out of the gambling. The "honest" race horse owners, trainers and bookies are not happy with those practices, and want the Jockey Club to put an end to it by proclaiming it illegal. But the Jockey Club is terrified of bad publicity, so they don't do anything, only ask Lord Charles to investigate.
And then, one of the most well known bookies is murdered. He was the one who was against drugging the most, threatening to rally the other bookies into refusing bids on horses suspected of being drugged / horses from stables using drugs. So, he had enemies enough, or was it more personal after all?
Charles is not happy with this new addition to his investigation. He is sure the Jockey Club will find some way to wipe it all under the carpet, and not punish the real murderer when he should find him. Charles is also assisted by a former policeman, who is very good at his job, but won't have any access to the race horse owners.
And of course, there is Kate, finding clues where Charles would never have thought to look. And little Patrick, who is working as a jockey in training with the horse that caused the accident. He has evidence of the drugging, and is only too happy to turn it over to Charles, it is bad for his beloved horse. He wants an end to the drugging! His friend lost his life because of it.
Another great mystery by Robin Paige. And I had the feeling I knew all of the participants in this mystery, as I have seen the biography of Lillie Langtry on BBC and DVD. On there, she is a bit better portrayed than in this book, but the discoveries in here, were known by me already. But that did not make it any less interesting, or easier to figure out the whole truth.
As always, I love both Kate and Charles, they are so great together, and apart. And young Patrick is a nice addition to the series. I wonder what will happen with him in the next book.
9 stars.