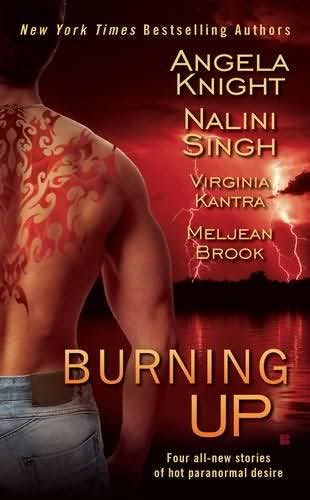 Nalini Singh – Whisper of Sin
A woman in lethal danger finds an unlikely protector – and lover – in a volatile member of the DarkRiver pack.
This story is placed at the beginning of the Psy-Changeling books, where DarkRiver and SnowDancer are not yet allies.
The Leopard Changelings have claimed Los Angeles as their territory, when a human mafia family is trying to take over. They start out in China Town, threatening the shop owners into paying protection money. Ria's mother has refused to pay, and one night, when Ria gets home from night school, she finds herself attacked in a dark alley close to home. She fights back, but is about to be overpowered by the lowlife, when a blond angel saves her. But it is not the blond who holds her so tenderly, it is his dark and rugged companion, Emmett, who cradles her in his arms, and makes her feel so save. Even after the horrible experience, she knows she can trust him, he will not hurt her.
Her family is a mix of Chinese and American humans, and though she looks American, she has the height (or lack of) her grandmother and mother. But she is tougher than she looks. Ria's family is determined to have her marry the son of their best friends, Tom. But Ria is not interested in Tom, and never has been. Just as little as he is in her. He just wants to make a respectable marriage, and have his real love as his mistress. Her parents don't believe her, until her wily grandmother shows them the evidence. But that doesn't mean they are happy with a Leopard in the family.
The gang will stop at nothing now to hurt Ria and her family, so the DarkRiver pack sets up protection for all of them, and Emmett will be Ria's bodyguard, till they manage to find the mafia boss and make him pay.
I really loved this little story, wish it was a full length one! I admired Ria and how she handles her family and Emmett. And Emmett, when he finally realises his mate is not a pampered female he needs to cuddle, but a warrior in her own right. They were great together, with some really hot love scenes between them.
9 stars
Angela Knight – Blood and Roses
A vampire warrior and his seductive captor join forces to stop a traitor from unleashing an army of demonic predators on their kingdom.
Welcome to a world where human magicians created a race of vampire warriors to keep them save from their reptilian neighbours, who love to slaughter and eat humans. They also created a race of female magicians, called Blood Roses. They can enthral the vampires and keep them in line.
The king suspects one of his knights of treason, and sends his best investigator out to find out the truth. Raniero and his men ride straight in an ambush, and his men are killed instantly by two Varil warriors, and he himself fights another vampire. He is on the brink of winning the battle, when he is distracted by the appearance of a Blood Rose. He tries to save her, which is not necessary and is captured by his enemy.
Amaris doesn't want to help her father, but the price for rebellion is the death of her little sister. And she cannot risk it. Perhaps she can ask this prisoner for his help later.
I am not familiar with this world created by Angela Knight, but I liked it. There was little time to get to know both Raniero and Amaris, but the little I learned about them, I liked. A totally different kind of vampire story this is. But I love most anything to do with magic. Of course there was passion in this story, but also love and trust. I think I want to read more of her.
8 stars.
Virginia Kantra – Shifting Sea
The story of a wounded soldier rescued by a strange and enigmatic young woman.
Major Jack Harris has just returned from fighting Napoleon. He is scarred, but whole, and the heir to a little estate on the shore. A little fishing village belongs to it. The past few days he has surveyed his new possession. He is eager to do the right thing to his tenants, although he was never brought up to be a farmer, a landowner. He was 16 when his parents died and he joined the army.
Then he hears a woman singing on the beach, a vision, and he just has to go to her. He has not seen her before, and she just asks him to join her in her bed. Is she the village whore then? Is that why she is living alone, away from the village? But no, her dress is of quality. But after their passion is satisfied, she sends him on his way, she is expecting an other man. What is he to think of her.
The very next day, he meets her in the village, trying to buy a pair of shoes with an ancient Spanish dubloon. His steward accuses her of stealing, and wants to take her into custody, but Jack helps her out. His steward has been robbing his villagers for the past six months, and Jack is determined to pay those debts in full. He takes Morwenna to her cottage, and again they have sex. She is not abhorred by his scarred body, and something melts inside of the both of them.
But Morwenna is not human, she is of the finfolk, and they do not know much about love. She doesn't want anything Jack can offer her, she wants her freedom. But Jack is determined to court her, he wants to marry her. But living like a human, loving like a human, will maker her age and die like a human too. Her brother warns her: humans hate what they do not understand. Can she tell Jack the truth about herself? Or will he reject her when he finds out?
I have read a short story in this world created by Virginia Kantra before, and liked it, but not enough to start reading the whole series. Again I like this short story, but I just miss a bit of humor. It is al written with such a serious tone, no witty bantering, just a lot of love scenes and earnesty. So it is not the world I don't like, as I do, but I guess just the writing style of this author that does not appeal to me enough.
6,5 stars
Meljean Brook – Here there be monsters
A desperate woman strikes a provocative – and terrifying – bargain to gain overseas passage.
I've started this story, but won't finish it. I'm just not into steampunk.