The fifth book in the In Death series, published in 1997.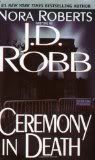 Conducting a top secret investigation into the death of a fellow police officer has Lieutenant Eve Dallas treading on dangerous ground. She must put professional ethics before personal loyalties. But when a dead body is placed outside of her home, Eve takes the warning personally. With her husband, Roarke, watching her every move, Eve is drawn in the most dangerous case of her career. Every step she takes makes her question her own sense of right and wrong – and brings her closer to a confrontation with humanity's most seductive form of evil …
With this book Lieutenant Eve Dallas dives into the strange world of Wicca, and its opposite, Satanism. Can the down to earth cop really understand what people motivate to engage in those opposite religions? There are murders enough, but can she prove it are murders? A cop, his granddaughter, a young Satanist, a banker, a lawyer. But who is or are the killer? The Satanists? Or the Wiccan? A difficult case for Eve, one she almost loses her life for.
8 stars.