Book 13 in the In Death series, published in 2001.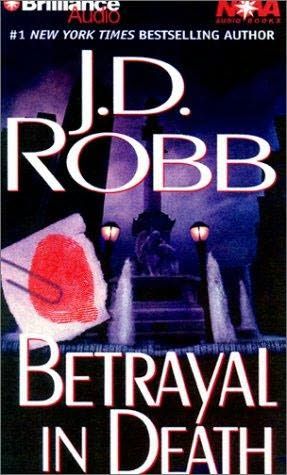 From number 1 New York Times bestselling author Nora Roberts, writing as J.D. Robb, comes a new novel in the futuristic series … Detective Eve Dallas investigates a homicide on familiar grounds – her husband's hotel – and finds herself up against a murderer with a passion for the finer things in life … and death …
At the luxurious Roarke Palace Hotel, a maid walks into suite 4602 for the nightly turndown - and steps into her worst nightmare. A killer leaves her dead, strangled by a thin silver wire. He's Sly Yost, a virtuoso of music and murder. A hit man for the elite. Lieutenant Eve Dallas knows him well. But in this twisted case, knowing the killer doesn't help solve the crime. Because there's someone else involved. Someone with a more personal motive. And Eve must face a terrifying possibility - that the real target may, in fact, be her husband, Roarke...
The Palace Hotel has a scoop, a world famous actress has decided to auction of a lot of her memorabilia and costumes from her movies and plays, and to hold that auction at the Palace Hotel. Roarke is thrilled, he has been a huge fan of Magda since his youth. The estimated value of the auction is close to half a billion dollars, and the proceeds will go to a foundation to help struggling your actors. Roarke has taken great care with the organization of things, and especially the security arrangements, and is certain everything will go flawless.
But then a young housemaid is murdered in his hotel, while he and his wife, Lieutenant Eve Dallas, are on the premises. Eve takes charge of the investigation, and tries to find a reason for this murder. Because for once, she doesn't have to find out who did it, the murderer is smiling in the camera for her. It turns out to be an international assassin, wanted all over the world and beyond by every alphabet agency there is. But they never looked deep enough at the clues provided.
Roarke is hurt very much by this murder, it was one of his people after all. But then an old friend from Dublin turns up as a surprise, as Roarke thought he was dead. Stabbed to death in a pub in Dublin years ago. But Mick is very much alive, and totally impressed with Roarke's accomplishments, and of course, a bit jealous. After all, they started out alike, with the same background and chances, and they were "in business" together more than once back than. So he cannot really believe Roarke married a cop, and has gone straight.
Then a man is murdered in the same way, with the murder actually being caught on camera. A friend of Roarkes this time, as well as an employee. He is furious, and devastated, and he wants in on the investigation. But Eve has a hard enough time fighting of the FBI when they want to take over the investigation. They don't care for the victims, they just want to collar of capturing this murderer. And when they mess up her hours of investigation, and the murderer flees, there will be hell to pay. And pay it, those FBI agents will.
Eve is tenacious, finding leads and clues the FBI and other agencies never bothered with. But in the meanwhile, she is very afraid Roarke is the real target. Someone is gunning for him. Someone from his past? Or his present business dealings? They want him not focusing on his business, on edge. And when the murderer goes after Summerset (but fails), she is almost certain. She hopes to be the next target herself, so she can protect Roarke. Of course, he won't just stand still for that. He will be part of the team. But Eve wants more than the assassin, she wants the person who is paying him! And so bit by bit, she unravels the plot.
A really great story. Even though I have read it before, I could not stop reading last night, and it was nearly three a.m. when I finally closed it with a sigh. A great plot. This time it is Roarke who needs to be held, and Eve can comfort him. She doesn't really trust Mick, but she loves the stories about their childhood pranks, and not so young stunts.
Peabody and McNab have a falling out over the fact she is still seeing Charles Monroe, but Peabody is not about to give that friendship up. Nor will she tell McNab it is just that, and no more. Even Mavis and Trina are roped in to help with the investigation, and that was the golden idea. Of course Trina takes the opportunity to work at Eve, even though Eve is afraid of her and her arsenal of lotions and the like.
A really great instalment in a terrific series, I will not for a long time be bored with.
9 stars.