The fourth book in the Guild Hunter series, published in January 2011.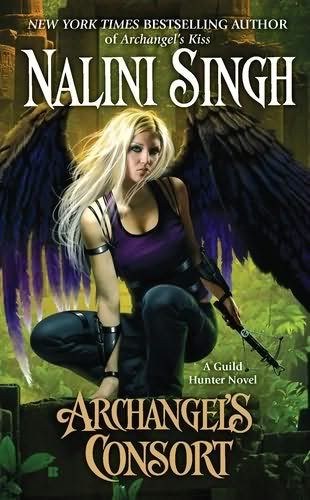 Vampire hunter Elena Deveraux and her lover, the lethally beautiful archangel Raphael, have returned home to New York only to face an uncompromising new evil…
A vampire has attacked a girls' school—the assault one of sheer, vicious madness—and it is only the first act. Rampant bloodlust takes vampire after vampire, threatening to make the streets run with blood. Then Raphael himself begins to show signs of an uncontrolled rage, as inexplicable storms darken the city skyline and the earth itself shudders.
The omens are suddenly terrifyingly clear.
An ancient and malevolent immortal is rising. The violent winds whisper her name: Caliane. She has returned to reclaim her son, Raphael. Only one thing stands in her way: Elena, the consort who must be destroyed…
It took me awhile to get into the story, perhaps because it has been so long since the previous book. And there is not so much looking back at the previous books, which I often don't need.
Elena and Rafael have returned to New York, no to the Tower, but their own house, near the Hudson River. Elena is still a newly Made angel, and not strong enough since her fall in Bejing. So she trains daily with the Seven, Raphael's most trusted warriors. Then she gets a call from Raphael to join him at a school, the very same school her half-sisters are attending. Two young girls have been taken by a crazed vampire, and killed. And Elena knows terror again. Will she find those sisters, whom she barely knows but are still her sisters, tortured and murdered like her elder sisters when she was a chid? Luckily, it are not her sisters, even though one of the murdered girls could be a twin, and they were best friends.
Elena quickly hunts down the murdering vampire, as she is still one of the best Guild Hunters the Guild has. Being an angel hasn't changed that. Strangely enough, the vampire is not crazed with Bloodlust, but appears sane enough. But rage overtakes Raphael, and he quickly kills the vampire. Only Elena's touch brings him back. What is happening here? Someone is undermining Raphael's authority over his vampires, or this would never have happened.
Suddenly all the strange weather all over the planet is making sense: an Ancient is Awakening, and those are the symptoms. Erratic behaviour of the Archangels, young vampires falling into Bloodlust and murdering all over the globe. And over it all the scent of a rare black Orchid, the scent of Raphael's mother. The Archangel Caliane, who when mad over a thousand years ago, and went to Sleep before the other Archangels would have murdered her.
But something seems of to Elena, something is just too convenient. So when the resting place of Caliane is finally discovered, she insists on going with Raphael and Illium. They will try to determine if she has healed, or is still so insane that she has to be killed. And it will fall to Raphael to kill his own mother if that is the case. Arriving in the hidden city of Amanat, they find not one, but two Archangels. But which one is the insane one?
When I finally got sucked into the story, I just wanted to keep reading. A lot is happening to Elena, with her family and her past. The pieces with her friends were good, a nice diversion. But I loved the pieces with Raphael, how they grew closer and closer together. How she pulls him back from the edge when needed, and the love scenes are certainly very hot.
Lijuan, the Archangel of China, is in my eyes pure evil. And she will have to be put down in some of the next books, I am sure of that. She doesn't value life at all, only death. But it will take a lot to make that happen.
Nalini Singh sure knows how to make someone curious about the next books, with the hints she is giving about the pasts of the Seven, and a bit about the other Guild Hunters. But the main focus is still Elena and Raphael. I hope there will be more little Sam in the next book though. And boy, do I wish I had angelwings myself, learning to fly like that sure sounds awesome and just plain fun.
8,5 stars.