The fifth book in the Kate Daniels series, published May 2011.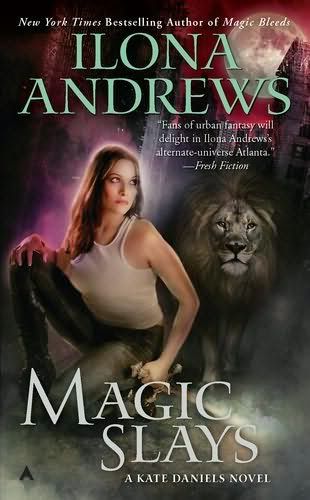 Plagued by a war between magic and technology, Atlanta has never been so deadly. Good thing Kate Daniels is on the job.
Kate Daniels may have quit the Order of Merciful Aid, but she's still knee-deep in paranormal problems. Or she would be if she could get someone to hire her. Starting her own business has been more challenging than she thought it would be—now that the Order is disparaging her good name, and many potential clients are afraid of getting on the bad side of the Beast Lord, who just happens to be Kate's mate.
So when Atlanta's premier Master of the Dead calls to ask for help with a vampire on the loose, Kate leaps at the chance of some paying work. Turns out this is not an isolated incident, and Kate needs to get to the bottom of it—fast, or the city and everyone dear to her might pay the ultimate price . . .
The day does not begin good for Kate Daniels. She is called out of bed by the headmaster to inform her, that her young charge Julie has run away, again, and this time she is not welcome back. The child is obviously not happy at school. By way of punishment, she decides to have Julie walk her way home, with two shapeshifters of the Pack secretly keeping an eye on her.
Kate is alone in her new office, contemplating the lack of work now she is on her own and no longer part of the Order of Merciful Aid. Then she gets a call from Ghastek, one of the Masters of the Dead, that there is a loose vampire coming her way. She needs to capture it before it goes on a killing spree. Of course she manages that, and then Ghastek and a few of his associaties arrive to take command of the vampire again. Apparently, the previous "rider" lost consciousness, which got the vampire on the loose.
But then the PAD arrived, ready and very eager to kill the vampire. Ghastek is showing of his command of the vampire, when he too faints and loses control. And the trigger happy PAD shower the vampire and the People with bullets. At her own peril, Kate drags the wounded People into her office, which is build like a fortress, trying to save their lifes. The PAD doesn't care who they shot, as long as they can shoot. And leaving witnesses is not a good thing for them. So they want Kate to hand them over, to get them "medical care". They don't care that she is Consort to the Beast Master, that her office belongs to the Pack. Luckily at that moment Andrea shows up and bails Kate and the People out by showing her Order badge.
After cleaning up Kate and Andrea have a long talk about what happened, and Kate hires Andrea on the spot as her partner. As in the previous book her Lycan nature was revealed, the Order has fired her on bogus charges. Kate is just happy to have Andrea back, and of course her attack poodle Grendel.
Then another surprise walks into the office, Renee of the Red Guard needs their help. They were guarding an inventor and the machine he was working on, when they both disappeared. They need Kate to find them and bring them back. Some serious magic was worked at the place, and one of the guards has died. After wrestling a bridge troll back to his lair, they arrive at the scene and investigate. Which is not a good thing for Kate's bad knee. Different kinds if magic are involved, and the wards seems to have disappeared altogether. Which is very uncommon, a broken ward just resurrects itself after the magic hits again.
A lot happens in this book. The device is killing magic, permanently, as well as the people who are magic or partly magic in its radius. A secret society who wants to kill al magic and bring technology back into the world has stolen it, and are not shy of using it. The inventor seems to be in different hands. Kate has to deal with some powerful witches and lots of other magical beings. She finds out about her mothers family, and Curran's motives are in question. Does he really love her for herself, or is she just an asset to the upcoming war with her father?
Can she save Julie from the brutal attack that gave her the Lyc-V virus and is killing her?
A great new book by Ilona Andrews. Packed with action, sarcasm, magic and some nice scenes between Kate and Curran. Kate needs to visit the Temple again, and the Casino, the Forest where the Witch is living, and many more strange places. Live is never dull around Kate. She has to solve some Pack problems when Curran is out hunting, and she still has to deal with the Wolf Alpha, who hates her guts after Kate had to kill her younger sister when she went Loup.
And in the end, just when you thinks, wow, all problems solved, the next dangerous thing arrives …
I like Ilona Andrews writing style, it is fluent, with good dialogues and lots of sarcasm. But you also feel the love between Kate and Curran, and I want to know what will happen with Andrea next. Will she submit to Aunt B, or will she indeed fight her all the way? Will Kate get magic lessons from Baba Yaga?
If you like Urban Fantasy, and have not yet started this series, where are you waiting for? I heartily recommend it.
9 stars.