The third book in the Victorian Mystery series, published February 1997.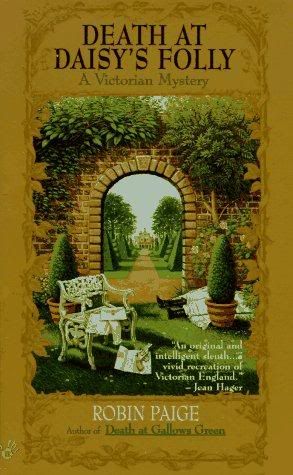 Sir Charles Sheridan is many things – an amateur scientist, a renowned photographer, and a skilled detective. And due to Victorian customs, he will soon become a baron – rendering him unable to marry Kate Ardleigh, an American writer of the popular, yet frowned upon, "penny-dreadfuls". Even as the customs of the time keep them apart, a good murder case always seems to bring them together.
Death at Daisy's Folly
The countess of Warwick, known affectionately as "Daisy", is the subject of endless rumors about her unladylike ways and temperament. But what happens during a weekend party at her Easton estate is uglier than any rumor. First, a stableboy is killed. Then a nobleman is murdered outside Daisy's well-known trysting spot. A murderer is on the grounds – and on the loose. Seeking to avoid scandal, the Prince of Wales orders Sir Charles to solve the case. Together, he and Miss Ardleigh find that even the highest levels of society are no refuge from the lowest of deeds…
Another great novel written by Bill and Susan Wittig Albert, who are together Robin Paige. What made this book especially special, is that I have watched the BBC documentary about Lily Langtry last year on DVD, so I actually had the feeling to "know" a lot of the characters in this book!
Believe me, this plot had so many possibilities and twists, I really could not guess who the real bad person or persons was/were. And that always makes for a great mystery. If you read as much as I do, it is a great thing to be surprised by a plot.
The book touches on the bad times for poor people, the budding socialism, that most upper class finds extremely dangerous, and anarchy. With the purposeless and poor life of such a great part of British population, the threat of another French revolution, but than in England, was very real. Anarchists were a new phenomenon. And it is all so neatly woven into this book, it kept me compelling to read on. Unfortunately, I had to work, so that was not possible much.
Sir Charles Sheridan is appointed by the Prince of Wales, Bertie, to find out who murdered his stableboy and the Lord. He doesn't want the local constable involved, as he is anxious to avoid more bad press. So he creates a fancy job and title for Charles, and commands him to find out what ever he can, as fast as possible. As this is murder, the culprit(s) must be found. And perhaps not brought to justice under the Law, but to his own personal justice. Some one is setting his Daisy up for a fall, and he won't have that!
As Kate is the one who found the second body, and guarded it until he could return with the Prince, Charles appoints her as his assistant. She will have the job to interview all the women servants and houseguests, while he will take on the men. And through a lot of lies and false tears, the ugly truth begins to reveal itself very slowly.
On a personal note, Charles has decided to ask Kate to marry him, as he really loves her. But then his mother writes him, that his elder brother is slowly dying, and she is counting on him to do his duty as the next baron. He knows Kate will hate the life that his new position will force upon him, the social part that is. And Kate, who also is in love with Charles, is afraid that her secret job as an author would have to come to an end as Charles' wife, to avoid any scandal. But when told, Charles is delighted with it, and he should have guessed her secret identity when he read her last "novel". So, if his mother will approve, they will marry!
But first, they have a few murders to solve and His Royal Higness the Prince of Wales to satisfy.
I so love the characters of Sir Charles and Kate. And that set against this Victorian background of a house party with the crème of Society, just great. I lapped it all up. And not only the high society is scrutinized through American lenses, also the servant world plays a big part in this novel. And to my historical loving self, it is al really lifelike and realistic.
If you have never read a cozy mystery before, but you do like historical romances, perhaps you could try this series. I you love mystery novels, and can stand a dash of romance, you will also enjoy this series.
9 stars.