Book two in the Twins of Petaybee trilogy.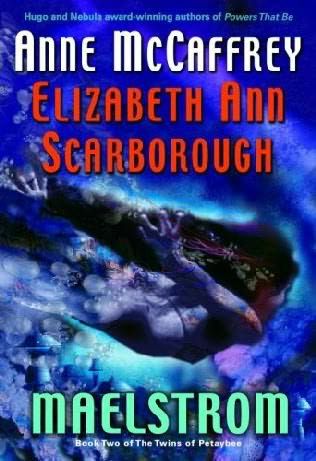 The sentient planet of Petaybee has agreed to harbor a group of new refugees, workers indentured to the powerful InterGal Corporation. But the mission to collect the immigrants becomes a rescue operation when it is revealed that InterGal is doing nothing to help these survivors of a world devastated by a meteor shower. The telepathic, shapeshifting twins Murel and Ronan set out to persuade the frightened refugees to come out of hiding, leave their world, and bring along their sacred totem animals. But the twins have taken on more than they expected: the sacred animals include Manos, intelligent sharks who have lost none of their predatory habits.
When the Manos are released into Petaybee's waters, a tragic misunderstanding threatens to ruin the entire resettlement operation. Now Murel and Ronan must smooth the waters before a maelstrom of revenge destroys Petaybee's harmonious way of life.
Ronan and Murel are going off planet again, just after they came home. This time to fetch Ke-oke's people from their awful home planet to come live on Petaybee. Marmee is taking them all in her spaceship. There is even a large tank of water to contain all the sacred Honus (sea turtles). Arriving at the planet, they find it under attack of a meteor shower, a Federation ship there doing nothing to save the people.
After rescuing the survivors, which is much more difficult than believed. They not only want them to take the Honus, they need to take the Manos too! And those are big killer sharks, who want to eat their rescuers. So when they finally are back home, they are relieved to let those animals free into the ocean. Only Ronan and Murel need to warn the deep sea otters of those new predators.
They come to late, as one of the little ones is eaten by the Manos, and Ronan is taken in revenge. The deep sea otters are shape shifters too, and sometimes they are aliens, although much much longer on Petaybee than the humans and other life forms.
Then InterGal strikes in revenge, arresting Marmee and her people, confiscating her spaceship and all of her belongings, and threatening to arrest all the Petaybeans they can find for kidnapping Ke-oke's people and their livestock. What now? They have no space craft left, or fuel for that matter. How can they rescue Marmee from that awful prison planet she is being transported to?
A very good book again. I enjoyed it very much. Ronan en Murel are getting more and more grown up, and sensible. Their otter friend Sky is a delight, and so is their friend Ke-oke and his Honu.
I can't wait to start reading Deluge, so this review is not going to be long, as I won't wait.